---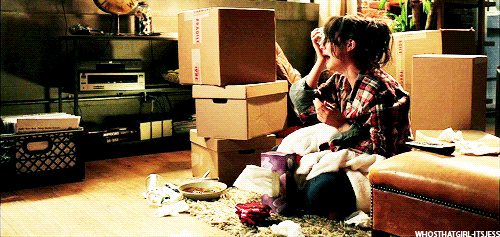 So you've decided you're ready to be out on your own? Well whether you're a recent graduate or you decided to move out of the dorm to off campus housing, these tips for renting your first apartment will help you understand what it is that you need to successfully find, rent, and move into your new space.
We've got you covered with seven tips for renting your first apartment.
1. Budget Smart for Up-front & Long-Term Costs
Even first-time renters know they're going to be responsible for their monthly rent, but it's easy to forget about the upfront costs. Nearly all OSU off campus apartment companies will require that you pay a security deposit and one month's rent before you move in.
In addition, you may have to pay application fees, or even a deposit for utilities, before you can get settled into your new place. Never pay any fees, deposits, or rent in cash and always get a receipt for each payment.
You'll also have to pay for utilities like heat, gas, water and electricity, so be ready to reach out to utility companies to get the services put in your name.
Some landlords actually require tenants to get renter's insurance, but you should whether it's mandated or not. It protects you in the case of accidental damage, theft, and disaster and usually doesn't cost that much per month.
2. Location, Location, Location
Settle on a few neighborhoods that fit your budget and start looking at apartments for rent online. Choose a few apartments from the listings you find, and schedule tours to view the property. Call ahead to ask what the requirements are to apply.
Before you pick an apartment building, make sure you've given real thought to where it's located. Ideally, you'll be close to all of the essential shops and services you'll need, like grocery stores and restaurants. How close depends on your lifestyle.
3. What You Need
When dealing with a potential landlord or apartment community, the conversation should be respectful and straightforward. When you're ready to rent, bring all the paper work you need with you.
Start with these basics along with proper identification: proof of income and dates of employment with contact information for at least one work reference and a co-signer agreement ready, so that all you need are signatures and dates.
Most of this information will be used to fill out a rental application, a standard form most landlords require.
4. Lease Terms
Learning how to read complicated legal text is a valuable skill, and skimming your lease is an awful idea. Carefully read the entire document, and don't be afraid to ask questions if there's something you don't understand.
If you want to be extra certain about the lease before you sign it, ask the landlord if you can have a few days to look it over. Then ask someone you trust, like a family member or experienced friend, if he or she can look it over with you.
If anyone in your life is experienced with legal matters (particularly housing issues), they should be able to help you fully understand any confusing clauses.
5. Roommate Worries & Pets
If you're moving in with roommates, make sure everyone you're going to be living with is signing the lease. After everyone has signed or co-signed the lease agreement with the landlord, it's a good idea for you and any roommates to sign a co-tenancy agreement. Spelling out responsibilities and liabilities for each person can prevent legal problems down the road.
Make sure you talk to your landlord about your pet – or pets – before you sign the lease or move in. Even if you know your building allows pets, it might have restrictions about weight or breed. In addition, most pet-friendly buildings require you to pay a pet deposit, or add an extra pet fee onto your rent.
6. Moving Plans
Moving is hard work, and you're probably not going to be able to do it on your own. If you have a lot of friends who are free, ask them if they'd be willing to help you haul your stuff into your new place. If your friends are busy, you may want to look into hiring a moving company.
Inspect your new apartment and write down any concerns or necessary repairs on a renter's inspection worksheet. To be on the safe side, it's a good idea to put your tenant repair requests or a complaint in writing.
Never let a structural defect, health hazard, or community concern just sit. Be sure to take pictures of any issues to provide to your landlord. Telling your landlord about problems immediately can protect you from liability when you move out.
7. Organization & Decoration Scheme
Furnishing a brand-new apartment is super exciting, but you must make sure you have the basics you'll need to live.
Here's a quick list of furniture you'll have to bring in: A bed, a couch, a table, and some chairs, towels, shower curtains, utensils and cookware. Use moving as a chance to purge because your new place will be smaller and you're probably going to need to come up with your own storage solutions. Donate, throw away, or recycle anything you don't really need.
The earlier you decide what you want to do, decoration-wise, the easier the process will be. Always measure your room first to make sure your furinture will fit.
Make lease-friendly changes before you unpack all of your stuff, so you don't have to deal with a bunch of little items while you're decorating. This way, your place will look like home as soon as you're done unpacking.
---
Still need help finding the perfect home? Let us help!