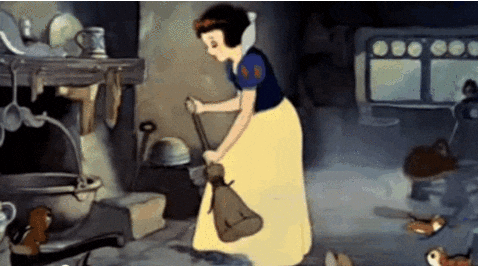 Remember to clean your apartment before you move out and turn in your keys! This is the best way to ensure that you receive your security deposit back. If you are overwhelmed and not sure how to start, take a look at these tips!
1) Keep in mind what your apartment looked like before you got there.
Before I move, I always take pictures of what the apartment looked like before I got there. If you didn't think to take pictures before you moved in, ask your landlord if they have pictures. You also probably filled out a packet where you described what the apartment looked like before you got there, if you didn't keep a copy, you should be able to ask your landlord for this as well.
2) Confirm your cleaning plans.
Like all relationships, your relationship with your landlord will be better if you communicate. Make sure you understand what your landlord's expectations are. Many landlords provide move out packets that outline their expectations. This will make sure that you don't miss anything that you could get charged for later.
3) Make sure your smoke detector is working.
You should never tamper with your smoke detectors for your own safety and the safety of those around you. However, many units we look at have the smoke detectors disconnected when we get there. Make sure your smoke detectors are where they should be.
4) Remember to clean appliances.
Be sure to thoroughly clean all your appliances that you are leaving behind. This includes the stove, fridge, and dip pans.
5) Check Every Room
Even though you may never use that second bathroom or you haven't been in your roommates bedroom in months, you still have to make sure it's clean. We suggest going through every room together to make sure that everyone is on the same page.
6) Coordinate
On a similar note, if only one or two of you are sticking around for the summer and you don't coordinate properly, you may end up being stuck cleaning more than you planned. Be sure to discuss with your roommates when you will be cleaning your place and who will be cleaning specific areas, this ensures that things are fair!
7) Dust!
You will not believe how dusty corners and the tops of different areas can get. Places that especially collect dust are the top of shelving, floor boards, and fans. We suggest using a damp towel you are okay with throwing away with after. If you are looking for additional dusting tips, click here.
8) Clean top to bottom.
Proceed from ceilings to the trim, to vertical surfaces, then finally to baseboards and flooring. Do this for every room in your apartment. You may feel like this is overkill but you would be surprised how dirty stuff can be without you noticing. Cobwebs can be on the ceiling. You could have hand prints on the walls. Cleaning room to room and top to bottom is a great way to take a fresh look at the place you have been living and see things you may miss living day to day.
---